2023 Lesson Information
Private And Group Golf Lessons And Clinics
A golf lesson is the best and quickest way to improve your golf game. We cater to a variety of players and offer both private and group lessons. Contact us today at the golf shop, 563.332.8296 to schedule your lesson. Our highly trained and experienced staff also offers club fittings, club analysis, and repair services for all your golfing needs.
Private Lessons
Interested in improving your game? We can help with that! Contact us to schedule your private lesson today!
2023 Lessons
Palmer Hils Golf Course 2023 Clinics
Palmer Hills offers professional golf instruction in both group and private settings. PGA Professional Jon Waddell, Butch Haverland and staff can help improve your game. Clinics will start at the designated time on the left side of Palmer Hills practice facility. You're welcome to come early and warm up on the putting green and short game area. Range balls, tees, towels, and drinks will be provided. If you have any concerns, special requests, or if you are interested in private lessons, please call the Palmer Hills Pro Shop at 563.332.8296. Weather cancellations for wind, rain, or cold will be decided two (2) hours prior to the clinic. Participants will be notified by text message, and all cancellations will be rescheduled.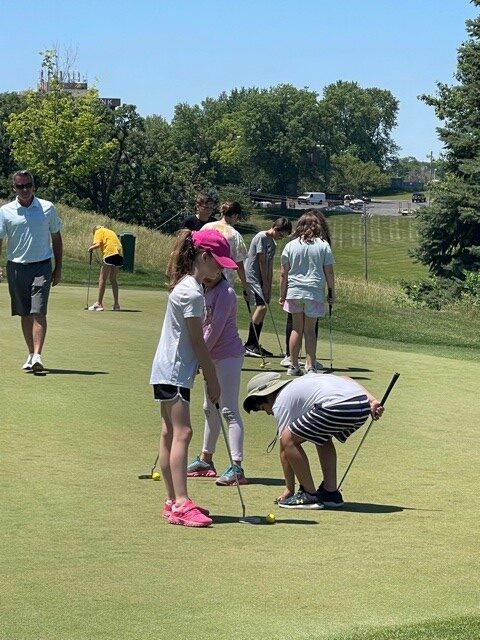 | Division | Day | Age | Time | Max # | Cost | Dates | Code |
| --- | --- | --- | --- | --- | --- | --- | --- |
| Junior | M-TH | 8-12 | 8:30-9:30 am | 30 | $100 | June 5, 6, 7, 8 | 10547 |
| Junior | M-TH | 13-17 | 10:00-11:00 am | 30 | $100 | June 5, 6, 7, 8 | 10546 |
| Junior | W | 8-12 | 3:00-4:15 pm | 15 | $125 | June 14, 21, 28, July 5 | 10650 |
| Junior | W | 8-12 | 3:00-4:15 pm | 15 | $125 | July 12, 19, 26, Aug. 2 | 10651 |
| Junior + | F | 8-12 | 8:30-9:45 am | 30 | $150 | June 16-July 28 | 10551 |
| Junior + | F | 13-17 | 10:00-11:15 am | 30 | $150 | June 16-July 28 | 10550 |
| Men's | M | 18+ | 5:15-6:30 pm | 5 | $125 | April 3, 10, 17, 24 | 10563 |
| Men's | M | 18+ | 5:15-6:30 pm | 5 | $125 | May 1, 8, 15, 22 | 10564 |
| Men's | M | 18+ | 5:15-6:30 pm | 5 | $125 | June 5, 12, 19, 26 | 10565 |
| Men's | M | 18+ | 5:15-6:30 pm | 5 | $125 | July 3, 10, 17, 24 | 10566 |
| Men's | M | 18+ | 5:15-6:30 pm | 5 | $125 | August 7, 14, 21, 28 | 10623 |
| Men's | M | 18+ | 5:15-6:30 pm | 5 | $125 | Sept. 11, 18, 25, Oct. 2 | 10624 |
| Ladies | TH | 18+ | 5:15-6:30 pm | 5 | $125 | April 27, May 4, 11, 18 | 10556 |
| Ladies | F | 18+ | 12:00-1:15 pm | 5 | $125 | April 28, May 5, 12, 19 | 10554 |
| Ladies | TU | 18+ | 12:00-1:15 pm | 5 | $125 | May 2, 9, 16, 23 | 10561 |
| Ladies | TU | 18+ | 12:00-1:15 pm | 5 | $125 | June 6, 13, 20, 27 | 10562 |
| Ladies | TH | 18+ | 5:15-6:30 pm | 5 | $125 | June 1, 8, 15, 22 | 10557 |
| Ladies | F | 18+ | 12:00-1:15 pm | 5 | $125 | June 2, 9, 16, 23 | 10555 |
| Ladies | TU | 18+ | 12:00-1:15 pm | 5 | $125 | July 11, 18, 25 Aug. 1 | 10625 |
| Ladies | TH | 18+ | 5:15-6:30 pm | 5 | $125 | July 6, 13, 20, 27 | 10558 |
| Ladies | F | 18+ | 12:00-1:15 pm | 5 | $125 | July 7, 14, 21, 28 | 10560 |
| Ladies | TU | 18+ | 12:00-1:15 pm | 5 | $125 | August 1, 8, 15, 22 | 10626 |
| Ladies | TH | 18+ | 5:15-6:30 pm | 5 | $125 | August 3, 10, 17, 24 | 10559 |
| Ladies | F | 18+ | 12:00-1:15 pm | 5 | $125 | August 4, 11, 18, 25 | 10548 |
| Ladies | TH | 18+ | 5:15-6:30 pm | 5 | $125 | Sept. 7, 14, 21, 28 | 10549 |