Private and Group Golf Lessons and Clinics
A golf lesson is the best and quickest way to improve your golf game. We cater to a variety of players and offer both private and group lessons. Contact us today at the golf shop, 563.332.8296 to schedule your lesson. Our highly trained and experienced staff also offers club fittings, club analysis, and repair services for all your golfing needs. 
Private Lessons
Interested in improving your game? We can help with that! Contact us to schedule your private lesson today! 
2021 Lessons
Bettendorf Junior Clinic
June 14th – 17th
Professional Golf Instruction
Focusing on short game & full swing fundamentals
Basic rules and etiquette
One age group: 8-17 years old | 10:00 a.m. – 11:30 a.m.
*Fee | $80.00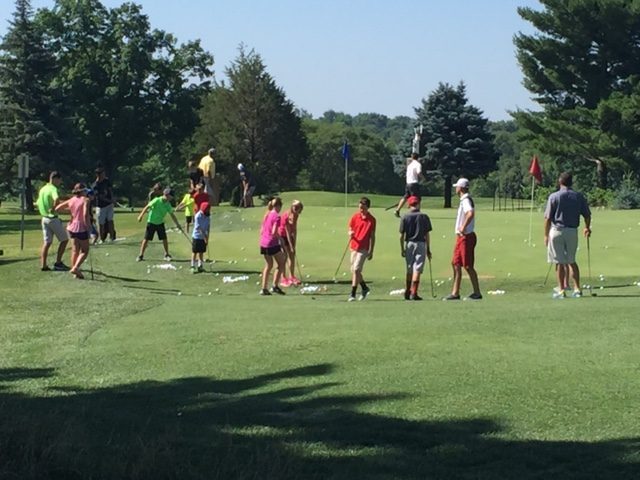 Bettendorf Junior Clinic Plus
Every Friday from June 18th – July 30th (We will not meet on July 3rd)
Expanding on basic fundamentals
Advanced rules and etiquette
On-course instruction, including bunker play and course management
On-course events and competition, including prizes for participants
Final Friday to include party with awards
9:00 a.m. – 10:30 a.m.
*Fee | $130.00
Group Lessons
Classes are divided into beginner and intermediate lessons
Beginner
Little or no experience required
Introduction to golf swing, rules, and etiquette
Intermediate
Prior experience encouraged
Expanding on basic fundamentals
More in-depth instruction & one-on-one work
Classes consist of four, 1 hour lessons. Minimum on 4 students per class, maximum of 12. Students are asked to furnish: putter, driver, 7 iron, and pitching wedge.
*Fee | $75 per person (payment due 1 week to first lesson)
TUESDAY
WEDNESDAY
THURSDAY
SESSION 1
April 27, May 4, 11, 12
Rain Date: May 25
April 28, May 5, 12, 19
Rain Date: May 26
April 29, May 6, 13, 20
Rain Date: May 27
Adult Beginner
10:00 am

4:30 pm


5:00 pm

Adult Intermediate


6:00 pm

Junior
5:00 pm

TUESDAY
WEDNESDAY
THURSDAY
SESSION 2
June 1, 8, 15, 22
Rain Date: June 39
June 2, 9, 16, 23
Rain Date: June 30
June 3, 10, 17, 24
Rain Date: July 1

Adult Beginner
10:00 am
4:30 pm

6:00 pm

Adult Intermediate
Junior
5:00 pm
5:00pm
TUESDAY
WEDNESDAY
THURSDAY
SESSION 3
July 6, 13, 20, 27
Rain Date: August 3
July 7, 14, 21, 28
Rain Date: August 4
July 8, 15, 22, 29
Rain Date: August 7
Adult Beginner
5:00 pm

4:30 pm

Adult Intermediate
10:00 am

6:00 pm

Junior
9:00 am

5:00 pm